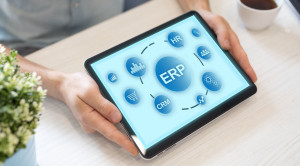 Cloud ERP software can improve the way your business functions in all areas including accounting, human resources, payroll, IT, project management and more. To get the full benefit of updating an integrative software solution in place of any outdated software programs your company may have been using, including Microsoft and QuickBooks, it is necessary to stay on top of the latest in cloud ERP software trends.
Let's a look a close look at eight top trends to keep in mind as you choose a cloud ERP software for your organization:
1. The financial services industry will increase its investments in ERP cloud software to better their processing and better service its customers. By accessing cloud-based ERP solutions, financial organizations have the capability to quickly and efficiently access credit histories, address customer concerns by using chat-bots, cut costs and perform risk-analysis without tying up time of office staff.
Fraud prevention is also a benefit of cloud ERP, as these systems have very sophisticated data security built-in and continuously updated. This is another savings as it frees up IT staff who had been previously dedicated to customer security and preventing data breaches.
A Forbes report on Digital Transformation trends for 2020 indicated that companies who aren't heavily invested in analytics as the ones provided by Cloud ERP software, probably won't be in business by 2021. That data analytical tools available to financial institutions through the Cloud can help turn easily accessible customer data in important insights on how to remain competitive in any ever-changing financial marketplace.
2. More IT departments will rely on cloud resources and invest heavily in integrating cloud management to improve processes. It is a single source available to businesses who have multiple locations by which users can collaborate and share information quickly and effectively.
A recent Forbes article on the International Data Corporation's (IDC) predictions for 2020 reports IDC forecasts over half (52%) of global GDP will be digitally transformed enterprises.
3. Acumatica will be a leading Cloud ERP Software for the future. Acumatica is growing in popularity as a cloud-based ERP solution for many businesses and its founders predict 2020 will be a banner year of increasingly growing use of its platform as more organizations learn of its scalable and easy-to-use applications which easily integrate with third-party applications. Its features include user dashboards, analytical/reporting tools, mobile technology, integrated document management, centralized security, and more.
4. A Gartner report predicts cloud revenue worldwide will increase by 17% ($40 billion). As businesses move their processes to the cloud, they will rely less and less on on-premises systems. As this transformation to cloud-base ERP rapidly occurs, consumers will realize its benefits and the demand will continue to increase.
5. According to Orbis Research (as reported by GlobeNewswire) in its Global ERP Software Market In-Depth Analysis 2020-2026 report, the global ERP software market growth will be driven by the increased demand for inventory storage of data within organizations. The report also states that an increased need for operational efficiency in organizations will also accelerate growth or the market for the forecasted period.
6. The need for transparency within organizations will drive market growth according to the same Global ERP Software Market In-Depth Analysis 2020-2026 report. Cloud ERP helps individual employees of companies with accountability reporting to management resulting in more transparency in company processes.
7. More companies are looking for ease of use as they transform their IT department processes to the cloud. A report by the Aberdeen Group has these findings in what companies most want out of an ERP system.
• Ease of use (50%)
• Functionality (46%)
• Total cost of ownership (43%)
• Time to value (27%)
• Integration technologies and capabilities (23%)
• Software costs (21%)
• Must be an integrated suite rather than multiple point solutions (20%)
• Support of internal collaboration (19%)
• Ability to tailor functionality without programming (18%)
• Ease and speed of implementation (17%)
• Industry specific solution (17%)
8. Cloud offerings will become more sophisticated as customer demand grows. Companies are seeking ways to transfer more of their company functions to the cloud, including employee recruiting, online purchasing, warehouse management, customer data analysis and more. ERP software is a fast and efficient way for a company to access these tools. In a Gartner Research report on postmodern ERP, analysts predict that businesses will shift away from their focus on technology to other business outcomes and experiences, making the need for a solid core of enterprise business capabilities (such as is found on the cloud) more critical than ever.
Premier Computing is ready to help you find the kind of ERP cloud software solutions that will best meet your company's specific needs. Are you ready for your business to grow? We are here to help! We have solutions for distribution, health services, government, non-profit, financial services institutions, and more. Visit our website to learn more about how we can improve your business operations and save you money in the process.