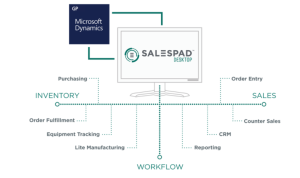 As the owner of a distribution or manufacturing business, it's your job to process orders, monitor the supply chain, keep customers happy, and so much more. Without high-quality, user-friendly software at your disposal, even the most organized business owner can end up feeling under the gun and overwhelmed. Sound familiar? If so, it's time to consider implementing SalesPad Desktop at your business.
SalesPad Desktop operates outside of Microsoft Dynamics GP and provides a number of business solutions including order fulfillment, equipment tracking, lite manufacturing, CRM, and reporting. Ultimately, SalesPad Desktop can help you cut down on your costs per seat, while improving security by removing warehouse employees out of your accounting and vice versa.
SalesPad Desktop and inventory management
Operating a warehouse requires critical attention to detail. One or more misplaced items or missed shipments can lead to hundreds or even thousands of dollars in losses, not to mention a hit to your reputation. SalesPad Desktop takes Microsoft Dynamic GP's inventory capabilities, and boosts them to an entirely new level.
In fact, it will help you:
Analyze your current inventory
Make educated purchasing decisions
Know exactly where your items are located
Monitor and document inventory
That's just scratching the surface, though. SalesPad Desktop can also help you to improve your workflow.
Visibility made easy
The manufacturing supply chain has dozens of moving parts which can leave you feeling like you're flying blind. As a comprehensive software solution, SalesPad Desktop can help you eliminate bottlenecks throughout the manufacturing process.
Thanks to it's user-friendly workflow functionality, you never have to worry about shipping out the wrong item ever again. That means no more embarrassing errors, all while reducing holding expenses. Talk about a win-win!
But what about customer service?
Of course no comprehensive software solution would be complete without adequate customer service support. Because your livlihood depends on happy customers, it's critical that you have a way to track shipments and stay-in-touch with carriers, all while keeping orders flowing in and out of your facility.
SalesPad Desktop gives you all the tools necessary to provide superior customer service. From monitoring business opportunities and managing proespects to assigning specific opportunities and prospects to your individual sales reps, you can do it all. Never again will you have to worry about keeping and maintaining business cards or referring to crumpled and fading sticky notes around your office.
With this manufacturing and distribution software, you have everything you need to operate in one place with easy access.
Cost-effective, flexible and easy to use
Does the thought of investing in distribution and management software leave you feeling anxious or unsure? This is perfectly understandable. Switching your entire operation over to a new and unfamiliar system is scary, but with SalesPad Desktop there's truly nothing to worry about.
It's cost-effective. Your sales reps can work directly inside of the system, which eliminates the need to purchase additional Dynamics GP licenses; a move which can cut costs nearly 30%
Flexible. As your business grows, so can your business management software. Tailer modules to meet your specific demands and tweak them as your business expands.
Easy to use. The program's user-friendly interface means even individuals who struggle with PCs can access the inforrmation and data they need with only a few clicks of a button.
Contact Premier Computing today!
As you can see, the benefits of investing in SalesPad Desktop are many. The team here at Premier Computing is ready, willing, and able to help you implement this system in your own business processes. As industry leaders, we have assited hundreds of companies with their ERP and CRM implementation needs.
We are one of the largest ERP solution providers in the intermountain west, and have the tools and resources you need to grow and thrive. Visit our website to learn more.