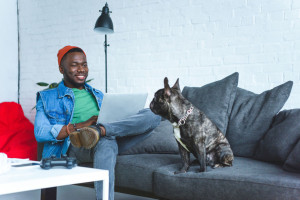 Is your staff made up of digital natives? Do your employees have top notch technology at home that might not match what they use in the office? Would they confidently be able to learn any new system or device that you give them?
We are betting that you answered "yes" to at least one of those questions. As more and more digital natives enter the workforce and rise to higher positions, the need for an agile platform that fits their needs becomes even more important. There are many industries and jobs that these digital natives can enter. The job market is rife with opportunities. If your company is not adapting to new technologies and processes, you may not be attracting top talent.
There are many ways in which the digital native generation has revolutionized the workforce. They demand flexible working environments, the latest technology and the ability to design the career that they want to pursue. They are no longer satisfied with a straightforward, 9-to-5 desk job. They know that there is an app or service that they can use to get anything that they want on demand. This has changed how they view work, and it should also inform how you approach the way that you run your business.
This generation is not afraid to switch jobs until they have found what they consider their "dream job." They know that they have options, and they use them. They are looking for perks while also looking for a job that has a purpose and meaning. That means that if your workplace lags behind on any front, you will not attract and retain top talent. If you can provide these added bonuses, you can also provide stability in your workforce. They will be loyal to an employer that checks all of their boxes.
An Enterprise Resource Planning (ERP) solution is the first step to a more versatile and flexible workplace. A cloud-based system provides mobility and allows employees to bring their own devices. It also taps into their affinity for apps. Many might see the digital transformation of workplaces as a burden, but actually this change can push your business forward and spur rapid growth within your industry. An ERP system is the answer for an ever-changing workplace.
Here we'll delve into the aforementioned perks that an ERP can provide for a digital native workforce.
It offers mobility. Your employees most likely want the flexibility to work remotely. There are many studies that show that employee engagement rises when they are given a flexible work environment and the choice to work from anywhere where they are productive. Using the cloud allows them to access their work wherever they have a strong internet connection. They are also able to start and stop work when they feel most productive. This can allow them to work around activities and family obligations, giving them a greater purpose outside of work and allowing them to bring their best selves to their work. You will most likely see a boost in productivity and employee morale when you allow employees to be themselves and place an emphasis on flexible work practices.
It allows employees to bring their own devices. With a good cyber security system built into your ERP, your business will be equipped to allow your employees to pick the devices that they want to use to access their work. This little taste of freedom can go a long way to employee happiness. Many digital natives want to be on the cutting edge of technology. They upgrade their devices early and often. They like being connected and may feel more deeply engaged with their work if they are able to access it at any time. This also benefits your business because you are not having to invest in technological upgrades. You already have the built in IT support with your ERP, so allowing any and all devices to get connected is an easy way to provide a real perk.
It taps into their affinity for apps. An ERP can connect all of your business's departments and functions into one system. This acts similarly to how digital natives use technology in their daily lives, through apps on their smartphones and tablets. They tap into different apps and services for everything that they need. This on demand mindset extends to work. If they are able to access all of their work functions in one central place, and able to communicate with other departments with ease, this gives them confidence that your business is worth investing their time and energy into.
You may have already decided that an ERP is the right option for your business. However, having a digital native workforce should give you the extra push to implement an ERP. These are subtle perks, but they can drive employee engagement and loyalty.