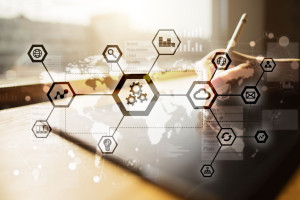 Cloud solutions have helped millions of businesses worldwide streamline company systems and functions allowing them to operate more efficiently. If one thing is clear it is that one size does not fit all when it comes to business automation.
Your company's cloud requirements will vary based on company structure, industry, company size, number of locations and other factors. The great news is–no matter your company's structure or what industry you are in, a cloud ERP solution can be customized to fit your organization's unique needs.
Premier Computing in partnership with Microsoft Dynamics and Acumatica provides Cloud ERP solutions across a broad spectrum of industries. Here are some of the unique industry-specific solutions we offer.
Distribution
Cloud ERP solutions can help your distribution service operate more efficiently by streamlining operations and helping with inventory management. Advanced software helps with every element of the distribution process from order fulfillment to managing inventory more efficiently. You'll never run out of inventory and always be able to fulfill customer orders on time.
Multiple functions of cloud software for distribution operations include order entry, warehouse management, auto purchase order generation, available to promise, and advanced picking. Specialized distribution solutions are available for these industries: consumer goods, cosmetics and personal care, industrial products, business promotional items, electrical, beverages, and nutritional supplements.
Health Services
Software solutions that helped medical organizations lower expenses and operate more efficiently are more important now than ever before as we face the unknown in dealing with a worldwide pandemic. We offer specialized medical technology solutions designed for medical administrators. These solutions help administration work alongside medical staff as a team with a collaborative system to deliver patients with the best health care available.
Some of the medical solutions offered by our advanced health care software assist with the exchange of financial and medical information, shortening budget cycles, centralizing inventory and purchasing functions, EDI with suppliers, regulation compliance, storing medical records/employee information, recording and tracking of essential business information, human resource functions and automated data entry and access. Medical ERP cloud solutions are designed for hospitals, clinics, emergency care services, private practices, and university and research facilities.
Government
Government organizations often get bogged down in red tape because they are working with outdated software that no longer fulfills the needs for the organization. The outdated software also contributes to data security breaches, miscommunication, and inefficient operation.
By centralizing functions through the cloud, government organizations can improve cash flow and budgeting with online and real-time capabilities, track fund/grant transactions and provide an accurate audit trail, reduce time in producing financial and other reports, enjoy enhanced transaction security, reduce errors with automation transactional distributions, and enable users to quickly pro-rate distributions using account aliases. Fully-integrated accounting solutions provide real-time traceability. This is an important feature for accountability when dealing with government projects.
Non-Profit
Non-profit organizations can quickly and simply generate reports and financial operations with Cloud ERP software solutions specifically designed for them. Accountability and transparency is essential when handling other people's money and securing future funding from stakeholders.
With a specialized cloud solution, non-profit organizations can optimize cash flow, view budgets and encumbrances with online and real-time capabilities, track grant/fund transactions for an accurate audit trail, reduce time in producing financial reports, provide enhanced security for transactions, quickly enable users to pro-rate distributions, and help with collections management.
Financial Services
Financial services are under strict regulatory compliance requirements. Cloud solutions help financial services organizations comply with regulatory compliance guidelines. Some of the benefits of Cloud ERP software in the financial services industry include reducing costs by streamlining operations and improved financial data security.
ERP financial software from Premier provides these services: analytical accounting, audit trails, bank reconciliation, cash flow management, collections management, customer/vendor consolidations, electronic bank reconciliation, electronic fund transfer for payable and receivables, fixed asset management, general ledger, grant management, intercompany accounting, lockbox processing, multi-currency management, payables and receivables management, check refunds, revenue/expense deferrals, and safe pay capabilities.
Premier Computing provides customized business automation services across the U.S., Canada, and Mexico with 80 percent of our client business based in Utah. In addition to industry-specific business automation solutions we also provide these services to help your business operate more efficiently: backup and disaster services, cloud services, consulting services, development services, Dynamics GP support, infrastructure services, managed services, procurement, and transformation resource planning.
You can rely on our over 60 years of business automation expertise to find a solution that will fit your company's unique needs. Contact us to schedule your free consultation. Let's get started helping your business grow!