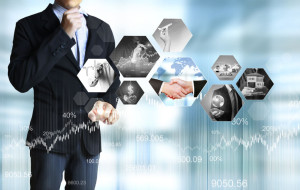 Most software developers in today's businesses know how important the move to an enterprise resource planning (ERP) system is. In fact, it's becoming just as essential to 'getting things done' as paper and pencil used to be in conducting business decades ago.
Software developers have a front-row seat to the future of data collection and can assist business leaders in making the choice about when and how to implement ERP within a company or organization.
Software developers provide support and information through ERP
What accounts for the growing move to ERP across industries and countries around the world? It's simple: businesses are becoming increasingly more mobile in their reach, especially as organizations expand into new markets and multiple geographies. And for most companies, it's the data — the cold, hard facts of what's happening within departments and divisions — that shapes the decisions being made every day. The information and solutions provided by software developers and an intelligent ERP system have the power to support those decisions.
More recently, there's been a trending push to move ERP systems to the cloud. Companies that conduct businesses on a global level can no longer rely on outdated systems that are limited to on-premise locations, and experienced software developers can help companies make the move.
Adding features to existing ERP systems
As another option to creating or implementing a brand new ERP system, many companies may choose to add upgrades, features, and options to existing systems. Are you considering the inclusion of cloud features or mobile options within your ERP system? Adding to what you already have in place can be a smart move to avoid the need for additional capital investment or a potentially time-consuming upgrade to infrastructure.
The software developers at Premier Computing can do exactly that. In addition to having the skills of creating new and innovative ERP systems to meet a company's needs, our software developers can work within an existing system to add on the features and updates you need to help you make the best decisions. Moving ERPs to the cloud can assist organizations with monitoring, managing, and orchestrating flow, without being confined to one location or premise. Additionally, ERPs on the cloud can be made private or public.
Advantages of moving ERPs to the cloud
Are you familiar with the concept of 'shadow cloud'? It's the practice of companies to allow access to applications and resources without the consent or knowledge of its IT department. And unfortunately, it's pretty common. In fact, even familiar cloud applications, such as Microsoft Office, fall under the category of creating shadow cloud. Without governing measures in place, such shadow cloud services present software developers with the challenge of managing data security risks and tackling potential technology redundancies.
However, when it comes to critical applications like ERPs on the cloud, the risk is reduced. The majority of information found in an ERP relates to data and system processes, and obviously, this poses a security issue for the company hosting the ERP system. But with cloud technologies, the trend is moving toward application security rather than network security. Many technology companies are already preparing for the conversion of applications to become "cloud native."
An experienced software developer will work closely with ongoing developments and security issues, including the addition of features that will limit and control accessibility, authentication, and authorization. If your company is ready to make the leap to an ERP system, or thinking of moving an existing ERP system to the cloud, our software developers can help.
Contact Premier Computing to learn more about what our software developers in Cottonwood Heights Utah can do to increase productivity and security for your business.