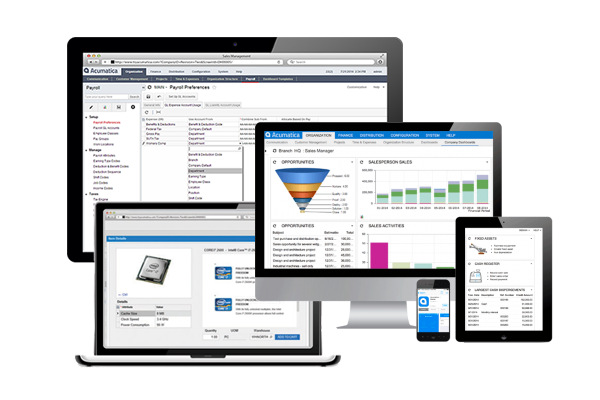 Acumatica
Acumatica is a new, innovative and complete ERP cloud solution; built on top a development platform making the product highly consistent and customizable. Acumatica is a strong multi-company, multi-entity, multi-currency product with all of the rich functionality needed to run your business, including finance, payroll, HR, distribution, manufacturing, CRM, service and more.
Premier understands the importance of having control over your business and the ability to play to your strengths and empower your people.  That's why working with Acumatica business management software, we help design a fully integrated business management solution unique to your company. Due to the highly customizable nature of the product, forms, inquiries, workflows and reports, it will be tailored to your specific business needs. Whether it be financials, distribution, customer relationship management (CRM) or project accounting, we will help design a solution that meets the unique needs of your company and helps you tap into your full potential.
Acumatica was designed and built specifically for the web. Acumatica Cloud ERP software uses the world's best cloud and mobile technology. Acumatica delivers robust ERP functionality with a suite of fully integrated business management applications. Features include dashboards, reporting tools, integrated document management, centralized security, and powerful customization tools.
Browser-based ERP software
Acumatica empowers you to take full control of your business by going wherever you go, on any device. The Acumatica cloud ERP (Enterprise Resource Planning) software is compatible with any popular web browser. When you use Acumatica as a subscription service (SaaS), there's no need to install any software.
Acumatica Cloud ERP offers:
Fully managed ERP solution in the cloud
No capital investments in infrastructure or local IT resources
Option to use as SaaS
Pay as you go
Rapid scalability
Your Acumatica SaaS license can be transferred to an on-premise license if you choose to change your cloud based ERP deployment.
Acumatica delivers the real benefits that
today's businesses require in their ERP System

Advantages

Streamlined Operations Do more with less: control workflows and maximize your resources by bringing complete information from everyone, everywhere, under a single pane of glass; one system to manage your entire business efficiently.

Adaptable Solution Connected Cloud Platform: built for your business and adapts with your needs; add capabilities such as CRM or data visualization any time; extend to other solutions and applications beyond your ERP system.

Your Business Accelerated. A single, real-time version of the truth to accelerate business performance with automated processes, accurate data collection, financial analyses and forecasting capabilities that drive better business decisions.
Features
Acumatica ERP (Enterprise Resource Planning) system delivers adaptable cloud and mobile technology with a unique all inclusive user licensing model, enabling a complete, real time view of your business anytime, anywhere. Through our worldwide network of partners, Acumatica ERP provides the full suite of integrated business management applications, including Financials, Distribution, Manufacturing, Project Accounting, eCommerce, Field Service, and CRM. There is only one true Cloud ERP platform designed for mid-sized customers – Acumatica.
Control Inventory

Increase Productivity
Connect Anywhere
Sales & Service
Adapt to Change
Improve Cash Flow
Respond Quickly
Acumatica is proud to have Premier Computing as a business partner. With 30 years of ERP implementation experience, Premier Computing has repeatedly proven their dedication in helping clients leverage Acumatica's cloud based ERP solution, resulting in improved efficiencies and high customer satisfaction.


Jon Roskill
CEO of Acumatica
UNLOCK YOUR BUSINESS POTENTIAL
Acumatica is a leading provider of cloud business management software empowering today's small and mid-size business to unlock their potential and drive growth. Read more.
INTEGRATED ANALYTICS AND REPORTING
One of the advantages of Acumatica is the fully integrated reporting engine allowing you to retrieve online reports to make better, faster and more informed decisions. Learn more.
Retail & Ecommerce
Sell, Fulfill, Repeat
Provide customers a multi-channel ordering experience while improving operating efficiency. Acumatica delivers a retail ERP and eCommerce software solution for small and mid-sized companies that improves the in-store experience
Read More.
Distribution
Distributors of any size face many of the same global challenges, including rapidly changing customer demands, complex product inventories, and fluctuations in the supply chain. Acumatica offers a single integrated distribution management system that integrates and automates the entire quote-to-cash cycle.
Read More
Service Industries
Customer Satisfaction Drives Profitability
Whether you specialize in long-term, complex projects or short turnaround jobs, you succeed by acquiring and maintaining clients while ensuring that projects/jobs are executed profitably. It all starts with managing relationships
Read More.
See how Acuamtica
can benefit your company