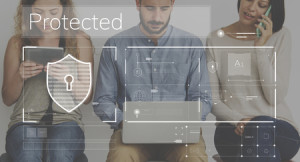 Small businesses must prepare for cyber security threats just like corporations do, but typically, with a much smaller budget. Luckily, cloud solutions offer small businesses the ability to have top-notch security they couldn't implement on-premise. How prepared is your business for a cyber threat?
Sometimes, owners or managers of small or mid-sized businesses (SMB) think they are not a target of cyber criminals. But here are some important statistics you need to know, from digital security company Barkly:
58 percent of malware attack victims are SMBs
In 2017, cyber attacks cost SMBs an average of $2.235 million
92.4 percent of malware comes through email
60 percent of SMBs say attacks are more severe and sophisticated
81 percent of SMBs say malware has evaded their antivirus solutions
You can help protect yourself from becoming part of the statistics by storing your valuable business data in the cloud.
Our partner, Acumatic, recently reported on a company whose on-premise Enterprise Resource Planning (ERP) software was hacked, the data stolen and held for ransom. Their ERP software managed critical business processes, including product lifecycle, customer relationship, and supply chain management. Unfortunately, after paying the ransom, they "discovered all the data was worthless because the backups were never tested". Even the largest corporations may have missed some areas of their cyber security plan. Partnering with a cloud-provider means you're also provided with a security expert who will help find the gaps in your plan.
How you deploy your business software can play a big part in your security. With all of the businesses we've worked with over the years, we've heard concerns over the security of their data stored off site. That's understandable, but perhaps we can offer a few reasons why the cloud is safer for today's ERP.
A cloud-based ERP provider, such as Acumatica, specializes in cloud security. They stake their reputation on it.
Cloud providers manage security fixes and backups with the technical expertise to do it routinely and correctly.
SMBs have access to network security tools they couldn't afford on their own such as video surveillance, two-factor authentication, 24/7 up-time, network auditing, and regular updates.
Your business data is one of your most valuable resources. Do you have it set up with the highest security? Learn more about Acumatica Cloud as a solution by talking with our excellent team. In addition to being a dealer for their product, we also have vendor partnerships to enhance the Acumatica ERP solution. Drop us a note!