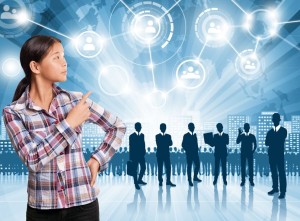 When searching for the right software for your business, you might be asking yourself a few questions.
Where do I start?
How do I evaluate and choose between my choices of ERP systems?
How do I know if my current system is meeting my needs or not?
We can help you design a fully integrated business management solution unique to your company by working with Acumatica's software. Here are three reasons why it may be the best fit for your organization.
Cloud Based
Ever since the cloud revolution began, we've been moving away from on-premise software solutions. Did you know that in 1999 Salesforce.com became a pioneer by delivering enterprise applications through a simple website? This was one of the first milestones of cloud computing, followed by the birth of Amazon Web Services in 2002. Now that we're almost 20 years in, we know that the value of cloud computing makes an impact for businesses.
Choosing a cloud-based ERP provides a number of benefits including:
Easy workforce collaboration no matter the location
Increased productivity through accessibility anywhere at any time
Lower maintenance costs than managing on-premise software
Flexibility as your business grows and needs evolve
Acumatica is The Cloud ERP, using the best cloud and mobile technology to deliver the robust ERP you want. Make a choice that's both the best hosting solution in today's market and is where the future is going by choosing a leader in the cloud.
Mobile Computing
Did you know that every month, smartphone owners use 30 different apps? We are a mobile world and expect websites to deliver their information to us from mobile-friendly pages, offering apps for repetitive tasks and providing us the ability to get a lot done from our mobile devices.
What did you do on your phone today? Check emails? Send texts? Deposit a check through your bank's mobile app?
Providing business operations through a mobile app equates to some serious productivity for your business and employees. If you're looking for an ERP with the best mobile app, you want Acumatica. Acumatica Cloud ERP Mobile App was named one of PCMag's 19 best business mobile apps.
Streamlined Operations
Bring all of your business tasks together by implementing an ERP solution. Through it, you can control workflows, manage and maximize resources and provide a system that delivers all of your information from all areas of your business. Think of the efficiency you can achieve by putting Acumatica to work for you. It's a leading provider of software empowering today's small and mid-size businesses to unlock their potential and drive growth. Read more about that in this PDF.
We are proud to be a business partner with Acumatica. Jon Roskill, Acumatica CEO, agrees: "With 30 years of ERP implementation experience, Premier Computing has repeatedly proven their dedication in helping clients leverage Acumatica's cloud-based ERP solution, resulting in improved efficiencies and high customer satisfaction." Let's roll out these awesome results for your business today.